12-04-2020, 04:42 PM (This post was last modified: 12-04-2020, 04:44 PM by Kim.)
Eight Miles of Art in the Colombian Jungle
Once upon a time, twelve thousand years ago ... a bunch of monkeys very much like us, decided to express what they saw & thought.  We are of course, only just now noticing.  
I'm especially intrigued by the designs behind this archeology guy, Professor José Iriarte.  A great portion of this work is purely for design purposes.  The depiction of patterning is highly creative and instinctive.  
The astounding mass of paintings also depict a variety of animals, many of which are recognizable - deer, tapirs, alligators, bats, monkeys, turtles, snakes and porcupines.  There also appear to be ice age animals such as giant sloths, mastodons, camelids, horses and three-toed ungulates with trunks!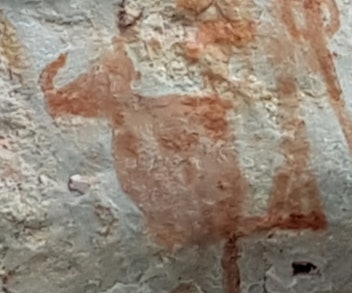 Personally, I think this looks a bit more like a rhinoceros.
The mass of drawings/paintings were discovered during excavations at three sites in Colombia carried out between 2017 and 2018.  Treaties had to be signed with the FARC to get into the area because, after twelve thousand years, modern humans continue to be monkeys who like to kill each other.  And so we beat on, boats against the current ... born back ceaselessly into the past.
There are several articles
it's an incredible find ...
The Guardian
CNN
Inverse
Artnet
________________________________________________
A new type of thinking is essential if mankind is to survive and move to higher levels. ~ Albert Einstein